In case you didn't know, Moviegoers are a great vertical market to target. According to the MPPA In 2010, US Box Office figures were at $10.6 billion, meaning that 222.7 million people went to the movies at least once in 2010 (in the US and Canada) that's over 2/3 of the population, and the average amount of tickets purchased per moviegoer was 6. The demographic of people buying tickets being split 50/50 between men and women.
Going to the movies is an essential part of the American culture but with the advent of streaming movies online, this activity is starting to dwindle. More and more people are deciding to spend nights in with Netflix a bottle of wine and a plate of spaghetti Bolognese, rather than spend $17 for an IMAX ticket and another $20 on concessions. So how do we get people off the couch and back to the movie theater? In terms of "Whats in it for me?" Free is always a great motivator.
Here we see the relevance of free  pre-screen movie tickets. This way of rewarding people for creating word of mouth for a new movie is nothing new and have been around for years. The good news is the same dawn of technology that allows movie lovers  to stream movies now also provides social rewards to convert them back  to moviegoers.
BestBuzz has been used as a marketing tool for Film Production companies Summit, Warner Brothers, Paramount Pictures and CBS Pictures. The mobile marketing tool rewards customers who help promotions grow through social media. Using its patented social reward technology, BestBuzz uses Mobile Entry Points, (MEP's) to engage movie fans by offering movie promotions with successful results.
The process is simple and the results are amazing:
Most recently BestBuzz was used to promote Now You See Me, a Summit movie. The process is simple to gain amazing word of mouth reach.
Create a Mobile Entry Point using BestBuzz, for this we used a QR code.
Create the social reward – In this instance the reward was two free pre-screen passes to see the movie
Use your mobile entry point in your usual pre-screen marketing activities such as print and digital media.
Watch the social reward buzz grow!
The results speak for themselves. The BestBuzz dashboard shows that the free pre-screen passes were all given away well before the movie showing date.  This achieved the two objectives for the promotion, give away all the free pre-screen passes and create word of mouth buzz about the movie to generate great ticket sales when it becomes available on general release. In fact people continue to scan the QR code even past the launch date.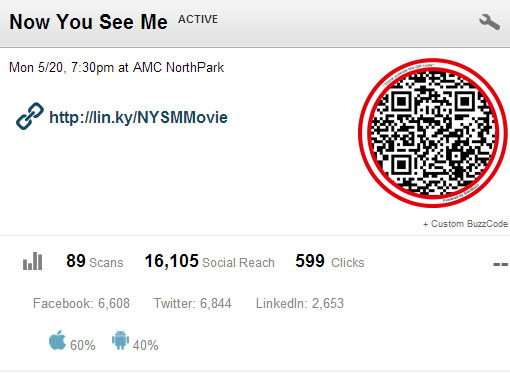 We can also see that the social media reach or "buzz" that was created on social media networks like Twitter and Facebook reached over 16,000 people, with 595 people clicking on the mobile landing page to find out more about the movie, showing time date and location.
Another amazing movie promotion that continues to be successful to this day is for Magic Mike, produced by Warner Brothers.To date, this code has had 406 scans and has reached over 102,000 people on social media.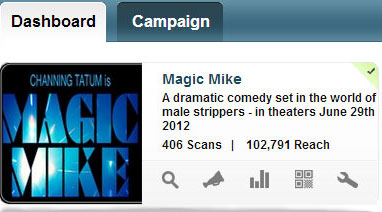 The great thing about QR codes as mobile entry points is that the message behind the code can be changed and updated. Any person scanning it will see your latest promotion, giving your marketing collateral an extended lifetime and it's always timely and relevant.
To see a full case study from the Now You See Me promotion click below.



To see  whole range of our movie promotions visit our Pinterest page.
To see how you can add social rewards to your next promotion, call us on 214.741.1887