6 Benefits of Hiring a Marketing Agency
So you own a business, you're an entrepreneur, or you help manage a company — and you need more leads, customers, website traffic, or overall visibility. A marketing agency is the simplest solution. Most business owners have limited time and expertise for marketing. Hiring the right agency gives you the freedom to focus on running your business while an expert handles your most pressing marketing tasks. Let's look at the top 6 benefits of hiring a marketing agency.
1. YOU GET MORE THAN JUST MARKETING EXPERTISE
What if you could have predictable, effective marketing systems that generated and nurtured sales leads? By outsourcing some of your marketing, you get marketing talent, leading-edge strategies, shared experiences, and access to advanced marketing technology. You can seamlessly synchronize the end-to-end customer experience, and touch each stage of the buying cycle with agile, timely, and relevant marketing campaigns.
2. YOU WANT TO BE NIMBLE AND MANAGE COSTS
Fixed cost are huge. People, systems, and facilities account for the largest part of the internal marketing budget. And the cost of a bad hire can easily cost a company over $200,000.
By comparison, marketing agency resources don't need a full-time salary, benefits, and other overhead. When you hire a good agency, that team should provide a wide-range of strategic, tactical, and technology skills.
By outsourcing some or all of your marketing activities, you not only save money in salaries and overhead, but your outsourcing partner can also save you money in direct purchases on marketing programs (e.g., printing, media buys, advertising, marketing technologies, etc.). By leveraging their suppliers, a good outsourcing partner can save a company 10 – 30% in their overall marketing spending. Here's an example:  Just one direct hire may cost a company about $120,000 (salary and overhead). A marketing outsourcing team typically cost less than that and in addition you gain access to a full cross-functional team.
3. YOU GET ACCESS TO THE LATEST TECHNOLOGY
Marketing departments are often technology-deprived, or they have a mixed assortment of incompatible marketing technologies. While companies have access to over 4,000 marketing technologies available to them, how do they know which ones to pick? And it's often the case that marketing organizations are at the bottom of the IT department's priority list, so there might be a lack of support and guidance. A performance-based marketing agency that can provide you guidance as well as implementation service and support are extremely valuable.
Marketing tools increase efficiency, productivity, and performance. There are tools you can find for free or of little cost, but often they are limited on producing results. But performance-driven agencies give you access to premium-level services, software, and analytical data reports.
Also, consider that advanced marketing automation tools do not provide marketing services. They require a professional who can interpret marketing data and make smart decisions in order to achieve results.
4. YOUR EXISTING STAFF BECOMES MORE EFFICIENT
One of the greatest benefits of outsourcing will be how much easier you sleep at night. Marketing sounds like such a simple word, but it's not. Whether you're combining several marketing strategies for an overall campaign or you're looking for a complete overhaul on your branding, an agency can handle it will speed and resilience. The stress of what could be a major undertaking is removed from your plate and allows you to breath easier, and gives you the ability to become more focused and productive in other areas.
5. YOU BENEFIT FROM AN OUTSIDE PERSPECTIVE
It's easy for in-house Marketers to lose sight of the big picture. They tend to be immersed in the day-to-day activity and wearing many hats. The vision has escaped them.
Sometimes you can get too close to your business and not see your marketing strategies, programs, or materials from your audience's perspective. Even though you may know your business inside and out by living and breathing it each day, your perspective is still one-sided. To market successfully to your current audience — and capture new markets — you need to step out of your shoes and into your target markets' or customers' shoes . Having a group on the "outside" supporting your needs helps to give you the customer's perspective — which as we know, is really the most important.
6. YOU CAN EASILY SCALE YOUR MARKETING EFFORTS
When the economy tightens, companies tend to cut costs. Marketing is often the first to go because they are seen as a "discretionary" expense. And when times are good, marketing often gets more funding. It goes against the objectives of the CEO responsibilities, and that maximizes stakeholder value.
But reducing and expanding the marketing budget is expensive. In the short-term, reducing or canceling marketing activities incurs cost. In the long-term, costs associated with attrition, staffing, and erosion of knowledge base are more expensive.
Under a traditional in-house operation, the only way you can increase the output of your marketing team is to hire more employees. Agencies like BestBuzz already have cross-functional professionals on the core team that has been senior management with some of the top agencies, design firms, or companies in the world.
To learn more about hiring a marketing agency for your business, give us a call or send us a note at info@bestbuzz.bz or call (781) 728-9913!
Summary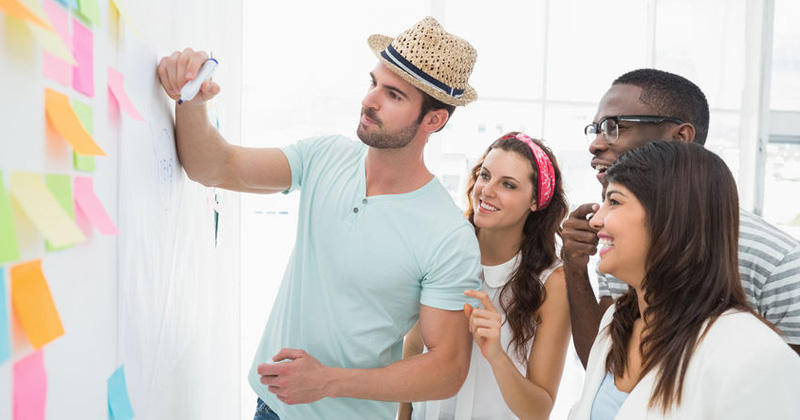 Article Name
6 Benefits of Hiring a Marketing Agency
Description
Are you and your team trying to figure out if you should hire a marketing agency? Discover the top six benefits of hiring a marketing agency.
Author
Publisher Name
Publisher Logo