posted on
December 30, 2013
by
Enlist in The Doodle Revolution Using BestBuzz!
Are you ready to report for duty? BestBuzz is. We've teamed up with Penguin Group to help enlist soldiers for the Doodle Revolution led by Sunni Brown.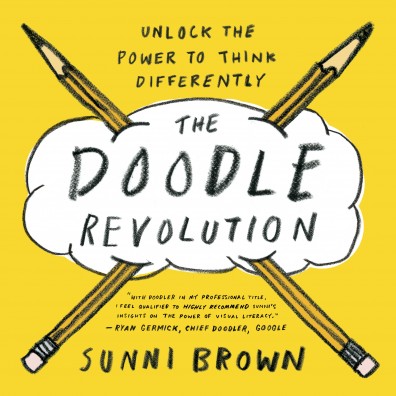 What's the Doodle Revolution?
"The Doodle Revolution is a global campaign for visual literacy." What does that mean? It means using doodling as a new form of communication that expresses more than words on a page. Doodling can unlock hidden ideas, spark conversations, and help you retain those boring meeting or lecture notes like never before. Led by Sunni Brown, the co-author of a Top 100 Business Book on Amazon called Gamestorming and Infodoodler-in-Chief at Sunni Brow, Ink., her newest book will teach you how to master "strategic doodling." She has used the techniques outlined in the book for big brands like Disney, Sharpie, Zappos, and SXSW. Sunni has been named "100 Most Creative People in Business" and one of the "10 Most Creative People on Twitter" by Fast Company and is also friend of Tony Hsieh, who uses Sunni's techniques at Zappos.com.
"There's a reason why so many innovative companies use Sunni's techniques for visual literacy, and it's not just because they want to have fun. These methods offer consistently better thinking and in the process deliver happiness as well." -Tony Hsieh, Zappos.com CEO
Ready to Enlist?
The revolution is coming on January 9, 2014 and you won't want to miss it. Join the revolution today by using image recognition technology in the BestBuzz app to scan the image of The Doodle Revolution book cover above. The easy-to-follow steps are listed below.
Step 1: Download the BestBuzz app by searching for "BestBuzz" in your app store or by texting DOODLE to 635-66
Step 2: Connect to your favorite social networks. Choose between Facebook, Twitter, LinkedIn, Google+ and Foursquare. (The more you connect, the bigger the revolution!)
Step 3: Scan the cover of the Doodle Revolution using image recognition technology built into the BestBuzz scanner app
Step 4: Enter-to-win, preorder your copy and don't forget the sign the Doodle Revolutionary's Manifesto!

That's it, soldier. You've joined the revolution! Now it's time to recruit friends of your own. Invite your friends to download the BestBuzz app from your profile screen (you earn points with every friend you send it to) and have them buzz the book cover for themselves. The more buzz, the bigger the revolution!
iViva la revolución!
Share and Enjoy