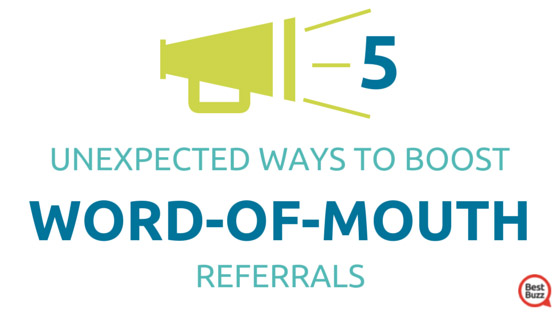 Word-of-mouth marketing has long been viewed as the most effective form of business promotion. According to MarketForce over "81% of U.S. online consumers' purchase decisions are influenced by their friends' social media posts". While all marketers appreciate it when satisfied customers tell their friends about favorite products or experiences, they still struggle with how to ensure that they are getting positive word of mouth. Traditionally, word of mouth marketing was difficult to manage. It was too random, and too complex to influence, not to mention control. With emerging technologies it is becoming increasingly easy to generate buzz and track word-of-mouth referrals.
Getting customers to spread the good word about your company takes more than just luck. It takes hard work to deliver an experience that exceeds your customers' expectations.
Here are five unexpected ways you can generate buzz and gain more word-of-mouth referrals.
1. Bring your print campaigns to life!
A sometimes overlooked technique that is  helpful to your band/business is the use of some traditional media, to accent what you are doing online. By using print campaigns to drive online business, you increase the likelihood of conversion rates by putting dynamic mobile entry points on mailers and magazine ads you give customers a new and engaging way to interact with you. This allows you to reach new audiences and gather valuable information on your target audience.
2. SMS Text Messaging
This technology has been around for over 20 years, but is integral to mobile marketing. It's accessible to all mobile phone users which means you don't exclude anyone from your offers and promotions. Text Messaging,  also known as SMS (Short Messaging System) has amazing open and engagement rates, and users can easily sign up to be included in your campaigns. Once you have your customer's attention and they have opted-in for updates, you can send out segmented text campaigns to alert customers to new locations, promotions, events, and sales.
3. UPC Barcode & QR Codes
If your product has a UPC bar code it can be used to maximize interaction with your customers. CPG brands can add a communication layer to entice customers in to an engaging purchase experience or offers and rewards. If need be full product details or product recall information can be added.
Quick Response codes (QR Codes) pack an information punch. These codes are one of many Mobile Entry Points that can be accessed via a smartphone. If you print your dynamic QR Code on a flyer or other piece of marketing material, you can change the message behind the QR Code without having to reprint the flyer! This makes that piece of marketing collateral all the more valuable as you can always keep it up to date with your latest offer, special or reward.
4. Make it worth your customer's while to talk
Arguable the best way to convince someone to do you a favor (customers included) is to offer him or her something. In the world of online retail that's easy. Coupon and incentive programs are pervasive, and they are something that customers of all stripes will understand. Offer them a simple discount or giveaway a popular product as a thank you or incentive to provide your business with some word of mouth.
5. Go mobile
Above all, do not underestimate the importance of appealing to the mobile market. Thousands of potential customers are on mobile devices today looking for what you have to offer.  Mobile entry points allow you to integrate your marketing campaigns, giving you valuable data and analytics while increasing your traffic and leads.
Customers will rely on mobile devices to access accounts for convenience sake. Therefore, if your Word Of Mouth campaign is not optimized for mobile usage, you are only hurting your conversion rates.
SEE IT IN ACTION!
You read our top tips on how to boost your word-of-mouth traffic, now see how BestBuzz used word-of-mouth to generate buzz for author Jessica Hagy's new book "The Art of War Visualized"