By now business owners should all know that they need to have a "Mobile Website." This simply means a website that a smartphone user can see on their mobile phone screen. How many of you have ticked that box thinking that your position in the mobile market place is now complete? But how many of you are delivering easy to view content to your mobile customers using your mobile website? How much of it is useful, timely or relevant?
70% of all mobile searches result in action within 1 hour. Source: Mobile Marketer
In one of our earlier blogs, we discussed how the well-known seafood restaurant, Ocean Prime was using a mobile website to sign customers up for their VIP program. We showed readers how to maximize the user experience using a Mobile Landing Page rather than a "Mobile Website." Here we will uncover the top 5 benefits of using a mobile landing page?
1.       Your Customers are MOBILE – KISS them
Mobile Landing Pages deliver a unique opportunity to speak to your target customer when they are on the move and looking for a local business. Seize the opportunity to drive them to your business. Don't make them "pinch and zoom"  a mobile version of your website to get your info.

Mobile Landing Pages allow you to take important information and place it in the hands of your target customers exactly as they need it.  Remember KISS; Keep it Simple, Straightforward.
2.       Offer Real-Time and Relevant Information
Your website will have lots of great information and history about your business. Things like "About Us," picture galleries, etc. But when your customer is a mobile customer, that kind of information is ancillary. They want to know things like, where you are, what your prices are, and your opening times. Maybe they want to see a menu or watch a quick video to get a feel for your business. Mobile Landing Pages make it easy to get this information to your target customer quickly.
3.       Make it Easy to Use
Mobile Landing Pages should have no more than 5 options or engagement points on them, so make them count. Make them engaging, enticing and easy to use. For instance, on BestBuzz Mobile Landing Pages, the interactive buttons are ergonomically designed to be used easily with your thumb.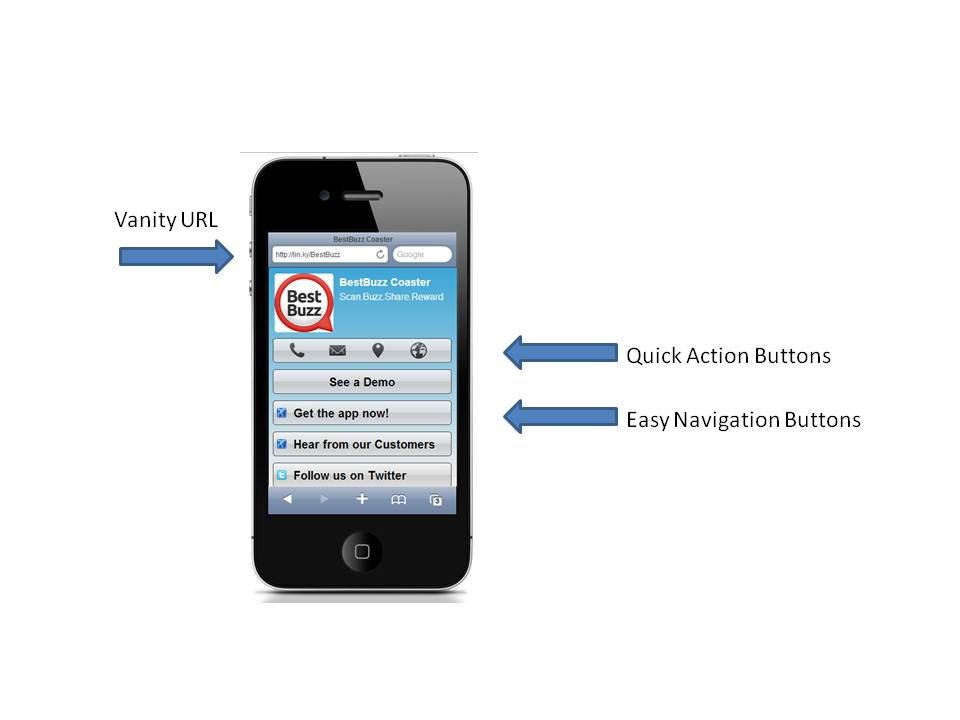 4.       Drive Engagement
Sure, you can have your customer like you on Facebook or Twitter, but what does that have to do with them looking for a local business that offers what you do? Give them a reason to stop searching and compel them to visit you by offering a real time offer or promotion, such as a free appetizer or a discount off your service. Make sure you can track this to gauge the effectiveness of your mobile promotions.
5.       Use a  Vanity URL/ Keyword SEO
A Vanity URL is an excellent link for your Mobile Landing Page. These differ from regular URL's as they have a theme in the link, such as the name or nature of your business. In basic terms, they make your business easy to remember.  Try to keep the URL short though, remember your target customer is mobile, be memorable. See the illustration above for an example.
Would you like more information on setting up a Mobile Landing Page for your business? BestBuzz can offer you a FREE assessment of your current mobile marketing position and offer useful hints and tips to maximize it.
Click below to get your FREE appraisal now.


Are you a business owner that is currently using Mobile Landing Pages? Would you like to share what worked well for you? Please feel free to comment in the section below, we love to hear from you.