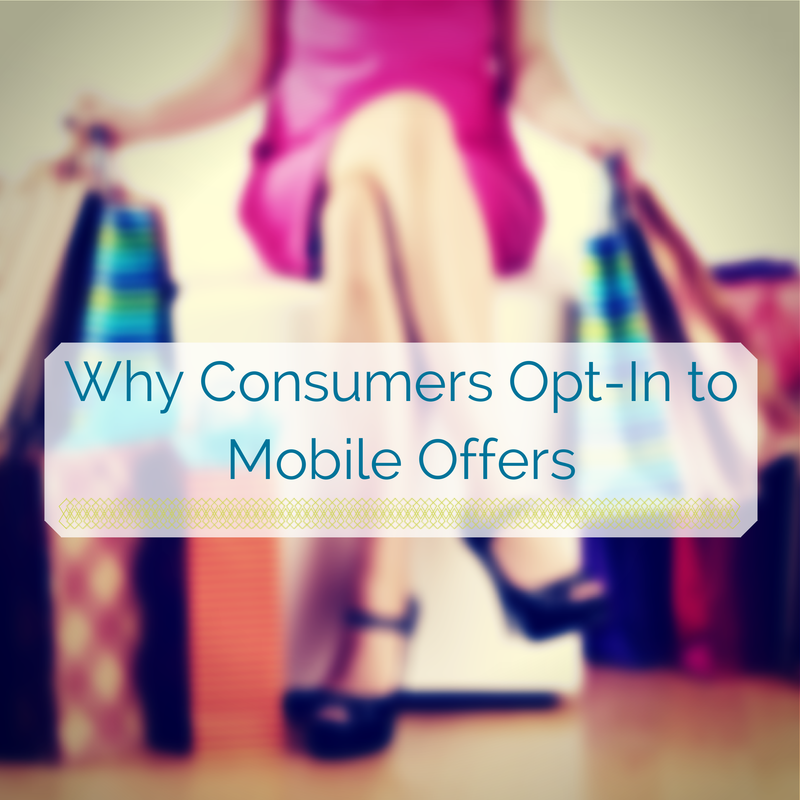 Mobile is rapidly becoming the preferred avenue for consumers to interact with their favorite brands, quickly replacing many functions that used to be reserved for desktops and laptops. Activities such as social, online shopping, and email are taking place in large capacity on mobile devices.  There is no question that mobile is the future but, how do you make a mobile offering that is more attractive to potential users? Today we'll examine new research that looks into the top reasons consumers opt-in to mobile marketing messages.
Our Top Stats:
● Nearly 60% of consumers signed up to on a mobile device to receive special offers or promotions – Tweet This!
● Half of consumers wanted to know when sales are taking place - Tweet This!
● Almost 40% wanted to get reminders and alerts - Tweet This!
● 35% wanted to get updates on loyalty programs they belong to - Tweet This!
● Roughly 30% wanted to get real-time status updates on orders they had places or learn about specific location based deals - Tweet This!
● Over one in four wanted to stay up to date on product offerings or availability of specific products - Tweet This!
What This Means To You
This information isn't just valuable in acquiring new mobile members, it's also important in keeping them connected to you through mobile messaging. You can't  just assume that once they opt-in, they will stay opted-in or will faithfully read your mobile offerings. If a consumer signs on to receive a special deal, whether it's a discount, free shipping or member points, what are you going to do to make sure they it's not a one-time occurrence?
Some things you can do to keep consumers coming back:
● Make your mobile offers timely & relevant – Don't blast out the same coupon to all of your customers because they won't see the offer as valuable and unique. If you continue to send out the same message, consumers will get bored and irritated with it and unsubscribe to your push notifications and emails. Segment your customers into personas and individualize offers to fit that persona's needs. This will increase your click through rates and leave customers felling like you really took the time to get to know and understand their needs.
● Don't over message- Just because they signed up once , doesn't mean that they want your to fill up their inbox with offers. It doesn't have to legally fall into the definition of SPAM for consumers to consider it such. Always remember to be timely and relevant because if your just bombarding the consumer with offers you are likely to lose them.
● Make it multifunctional – Do more than just pump out coupons. Add messaging about product updates and special store events. If you can incorporate your CRM solution or inventory control system do so. This could move consumers to make purchases they might have put off till later if they see that products are in jeopardy of selling out.
● Socialize your mobile offers – One of the great things about mobile messaging is the ability to share them. If you give additional benefits when a mobile user shares word of mouth message with friends, you holistically increase your brand's influence. A word of mouth will also hold more credence with the person who gets it, because someone they know and trust has recommended it to them.
These are just 4 quick points to create memorable mobile messages. The more functionality that mobile devices have built in to them and the more people become depended on them – the bigger the influence your mobile campaigns can have on their purchase habits. For more information on taking advantage of the power of mobile, please subscribe to the BestBuzz mobile marketing newsletter.
WANT TO BECOME A MOBILE MARKETING NINJA?
WE WERE HOPING YOU WOULD SAY THAT! JOIN OUR NEWSLETTER AND WE WILL HAND PICK THE MOST UP TO DATE INDUSTRY NEWS AND TRENDS AND SEND IT YOUR WAY.