posted on
February 26, 2013
by
New Media Art

We love technology.  We love art.
So it's safe to say we love New Media Art.
Not familiar with New Media Art?  First we need to understand what New Media is.
New Media is not t.v., film,  magazines, books, or paper-based publications..aka Old School.
New Media is the internet, websites, computer multimedia,video games, GPS, and Wireless..aka New School.
Side Note:  Q.R. codes are considered new media, even though they are often printed on paper because they link to technologies that enable digital interactivity.
New Media Art is created with new media technologies.  This  includes digital art, computer graphics, computer animation, virtual art, internet art, interactive art, video games, computer robotics, and art as biotechnology.
Some New Media Art Favorites.
Farm Fountain is an indoor ecosystem for growing edible and ornamental fish and plants.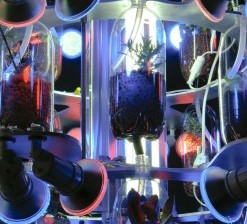 E-Static Shadows is a  luminous electronic textile installation that acts as a static display or mirror, making invisible electrostatic charges generated by people visible.
 Gravicell: Gravity and Resistance  installation uses video projectors, screens, GPS receiver, custom made sensors, custom made steel panel floor, and  PCs to toy with the forces of gravity resistance.
BestBuzz can take your brand's logo and transfer into a New Media Art QR Code.
For more New Media Art check out Rhizome.
Contact the leader Mobile Marketing Technology at info@bestbuzz.bz. Download the BestBuzz App today by texting BUZZ to 635-66. Connect with us on Facebook and Twitter.
Share and Enjoy