posted on
October 1, 2013
by
Measure Print Campaign Success and Prove Print is NOT Dead
"Print is dead!" 
It's a cry we have been hearing for the last few years in the print and digital worlds.
Although some print may have been replaced by digital methods, we all know that print still has a crucial place in telling people about our brands, businesses and products.
Consumer magazine ad revenue (print only) grew by 0.5% year-over-year in Q1 2013 to reach $4.13 billion, according to recent data from the Association of Magazine Media (MPA).
So let's see how we can drive more value and interaction from these ads and while we are at it, increase conversions.
Magazines are built around two pillars: passion and community.
When you communicate with your readers, make sure those two pillars can easily be acted upon by adding interactive elements to print ads.
This is also known as Integrated Media or Multi /Cross-Media Marketing.
In this blog I will take 2 print ad campaigns to see how one is effective and displays the product well, and how another interactive style of advertising enhances the customer experience and places your product instantly in the palm of your customer's hands.
I will also show you how you can instantly track the performance of that print ad so you can understand which cross media channels you need to use to maximize and evolve that simple full page ad. Now you can measure print and prove its value as part of a successful and engaging mobile experience. .
 In the USA, watching sports involves friends, food and flowing refreshments, so how do you get your food product in front of the people who are likely to purchase it?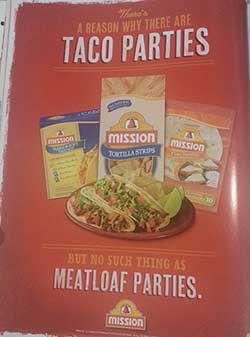 Whilst thumbing through the Dallas Mavericks 2012-2013 yearbook, I came across this eye-catching full page ad for Mission tacos and tortillas. It shows all the different kinds of the corn and flour tortilla products, with an enticing plate of "yumminess" in the center.
But that's where the messaging stops. Here is where integrated consumer engagement should begin.
Image recognition allows your reader to interact print pieces instantly when they scan your logo with their smartphone.
In this instance, a simple Call-to-Action (CTA) could have encouraged viewers of the full page ad to scan the mission logo and enter in to an enhanced mobile experience which engages the reader with exclusive recipes, coupons and a path to purchase.
With the introduction of the social amplification platform, BestBuzz, your reader can also engage all of their friends on social media and turn your print campaign in to a multi-channel marketing campaign that  reaches on average 250% more people!
Let's look how image recognition increased the reach of the print campaign for the Taste of Dallas by 250%.
Taste of Dallas is a huge tasting event held annually in the city of Dallas. Their well known logo, Chef TOD is placed on all of their promotional print items.
This year, Taste of Dallas wanted to reach even more tasters so they came to BestBuzz for help. By making the Chef TOD logo interactive, and providing a simple call to action, Taste of Dallas was able to maximize all interactions their customers had with Taste of Dallas print materials. This allowed the organizers to get instant data and analytics, showing where their customers wanted to speak to them and enable them to "double-down" promotional efforts in that area. They also propelled their viewers in to an engaging purchase cycle while the BestBuzz app doubled up as a handy app to use at the tasting event.
What instant results are available?
BestBuzz allows you to:
See how many people interacted with your print ad
Track what social media platform they chose to speak to you on
See where in the world they are interacting with you
Track the increase in your owned and earned media
I'm sure you will agree, all of these combined with the power to provide a fully customized interactive mobile marketing plan will make you look like a rock star in the Monday morning meeting!
This snapshot will show you how effective the results were. If you would like to know more, download the Taste of Dallas case study here.


Are you considering taking your next print campaign to the cross media marketing level?
Do you see the need to have instant access to your next print campaigns success results?
If you would like to power your next print campaign with the BestBuzz social amplification tool, then please take a FREE assessment here to see how your campaigns can be improved by at least 250%. We can't wait to get you buzzing!
Share and Enjoy