posted on
December 11, 2012
by
Win iPad Mini by Scanning QR code with the BestBuzz App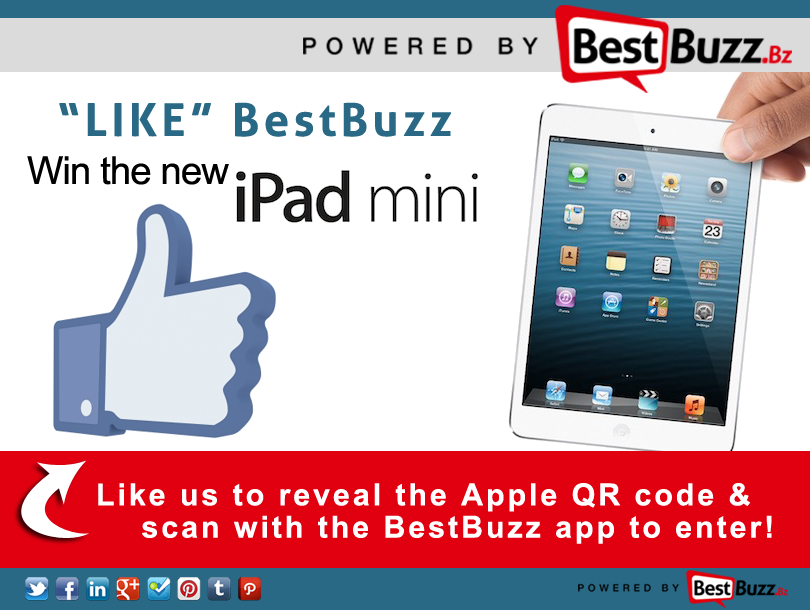 The iPad mini is the latest tech gadget from Apple and it is sure to be on everyone's holiday list this year.  But wouldn't it be great if you could save $400 and win your very own iPad mini just by scanning a QR code with the free BestBuzz mobile app?  Lets take a deeper look at what all the buzz is about for this mini tech gadget.
1. Size – As the name suggests, it is a lot smaller than it's predecessors, which makes it much easier to carry around with you.  The iPad mini is 7.84 x 5.3 inches and weighs only 308 grams.  This means it can easily be held in one hand, making it single-handedly the perfect device to scan Buzz QR codes with whether at home or on the go.
2.  Display – Although the first-edition iPad mini does not feature the popular Apple Retina Display, it still pleases users with a clear and defined picture.  The margins and font can be adjusted to preferred viewing settings, providing users with the perfect tablet for reading your favorite iBooks.  The iPad mini provides a polished Apple tablet experience in a smaller package.
3. Cameras – As you would expect the iPad mini features a FaceTime HD Camera, with 1.2MP photos, and 720p HD video. It also boasts the iSight camera with 5MP camera and 1080p HD video recording, again featuring face detection and backside illumination. So there is no excuse to not keep in touch with family that are not with you during the holiday season, and it is the perfect tablet for iPhotos.
Now, if you're convinced that you want the full, polished Apple tablet experience in a smaller package, here is how you can score a free iPad mini for yourself.  BestBuzz is a free smartphone app allows users to scan barcodes and QR codes to earn instant reward points and special offers.  It's simple, scan QR codes with the BestBuzz app and get rewarded for sharing on social media.
Follow these steps to enter to win an iPad mini :  Scan QR code with BestBuzz app
1.  "LIKE" BestBuzz.Bz on Facebook.
2.  Download the free BestBuzz smartphone app (available for iPhone, Android and BlackBerry devices) by visiting Lin.ky/buzz on your mobile phone, or Text the word "BUZZ" to the number 635-66.
3.  Visit our contest page on Facebook to scan the Apple QR code, and connect on social media to be automatically entered to win!
*Winners will be notified and announced just in time for Christmas on 12/21/12.
What would you do with a free iPad mini?  Please leave a comment or let BestBuzz know on their social media networks- Facebook, Twitter and Pinterest.  We look forward to hearing your feedback and QR code related stories.
Happy Holidays, and Happy Buzzing!
Are you interested in generating BUZZ for your business?  Click the button below to schedule a time to speak to a team member. 
Share and Enjoy