posted on
March 14, 2014
by
Fans of The Shark Tank are Invited to Get Buzzed and Win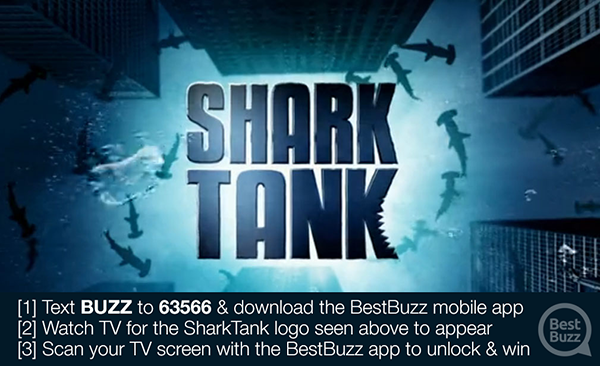 Tonight millions of people will tune-in to ABC to watch a special kids-themed episode of the Shark Tank from 9pm-10pm CST.  Viewers at home will also have a unique opportunity to play and win prizes during the show by scanning the Shark Tank logo (see how to buzz below) from their television screens with the free BestBuzz mobile app.
The BestBuzz app uses a technology called Image Recognition to create experiences and build connections for users between TV images and mobile devices.
HOW TO BUZZ-IN TO WIN
Watch the SharkTank tonight, and when you see the image of the Shark Tank logo and sharks swarming above, then have the BestBuzz app downloaded and ready to scan your TV!  Fans that are lucky enough to "catch a shark" will be entered to win several prizes including gift cards, entrepreneurship books, posters, t-shirts, and other fun swag!
Please follow the steps below, and get ready to buzz-in and win during the show tonight!  GOOD LUCK!
1.  Text BUZZ to 635-66 to get the BestBuzz mobile app.  You will receive a text response containing a link to download the free BestBuzz app, or you can go directly to your app store and search for "BestBuzz".
2.  Important- make sure to connect with your Facebook or Twitter account when prompted because BestBuzz will contact the winners through social media.
4.  Now for the fun part!  Tap the SCAN icon on the BestBuzz app, and align the target on your phone to the SharkTank logo on your TV screen tonight.
5.  Bam! You just buzzed your TV screen using image recognition!  The confirmation message will appear on your screen, and the BestBuzz team will be receive your entry.
6.  That's it.  Please follow @Best_Buzz on Twitter or Like BestBuzz on Facebook, so that our social media team can contact you.  Enjoy the show!
ABOUT TONIGHT'S EPISODE
Watch as these four brave kids go head-to-head with The Sharks in tonight's Shark Tank.
According to ABC News on March 14, "Shark Tank" will have its youngest entrepreneur ever. Kiowa Kavovit, age 6, is a little girl with a big idea, and tonight she will be asking for the sharks to partner launch her paint-on bandage business called Boo Boo Goo. She started her business when she was 4 years old, and tonight she'll become the youngest person ever to pitch an idea on ABC's "Shark Tank."
The Sharks in tonight's specially-themed "Shark Tank" episode featuring kids and teens are Barbara Corcoran, Mark Cuban, Lori Greiner, Robert Herjavec and Kevin O'Leary.
"Shark Tank" is an American reality television show averaging 7 million viewers an episode, making it the most watched program on Friday nights in the 18-49-year old demographic. "Shark Tank" premiered on ABC on Aug. 9, 2009, that features business pitches from aspiring entrepreneurs to a panel of potential investors who act like "sharks" in the ocean biting the entrepreneurs whenever they can.
The kids-themed episode of "Shark Tank" airs on Friday, March 14 at 9 p.m. EDT on ABC.
Share and Enjoy