posted on
January 6, 2014
by
What's All the Buzz About The Doodle Revolution?
The Buzz for The Doodle Revolution is growing.   Have you enlisted yet?
The Doodle Revolution is officially launching on January 9, but with all the buzz flying around, it's clear that the movement has already started.  Business leaders, the editors at Amazon and even the New York Times have caught Doodle Revolution fever, and it's only going to get bigger.
If you haven't enlisted, you still have time to join the ranks of business experts like Ryan Germick, the Chief Doodler at Google and Tony Hsieh, the CEO at Zappos.com.  These experts have unlocked the power and use doodling techniques in their professional lives to achieve great successes.  Sunni Brown, author of The Doodle Revolution and Infodoodler-in-Chief at SB, Ink, has created this easy-to-follow book of guidelines and tips, so that you can learn to doodle like the pros.
Who's Sunni Brown?
Sunni Brown was named one of the "100 Most Creative People in Business" and one of the "10 Most Creative People on Twitter" by Fast Company.  She is founder of a creative consultancy, an international speaker, co-author of Gamestorming, and the leader of a global campaign for visual literacy called The Doodle Revolution.  Her TED Talk on doodling has drawn more than a million views on TED.com and the Kirkus Review called her work "a goldmine."
How will joining the revolution benefit you?
The Doodle Revolution helps you to "unlock the power to think differently" using visual representations of ideas and thoughts to promote better memory retention and help you to solve complex problems. You can use doodling while you are brainstorming with a team, when you're taking meeting notes, or when you're at your desk trying to solve complex business problems.
The book is part manifesto, part doodling workbook, meaning you will be able to put the pen to the paper while you're reading.  The exercises span from turning a simple stick figure into an emotionally expressive character by adding pen strokes to represent eyebrows and mouths, to how to lead successful group doodling sessions that encourage shared memories and that lead to creative breakthroughs. A self-proclaimed non-artist, Sunni wrote The Doodle Revolution so that anyone can pick up a pen and express ideas that leave lasting impressions for the creator.
Don't just take our word for it; see the long list of business experts who have joined the revolution below.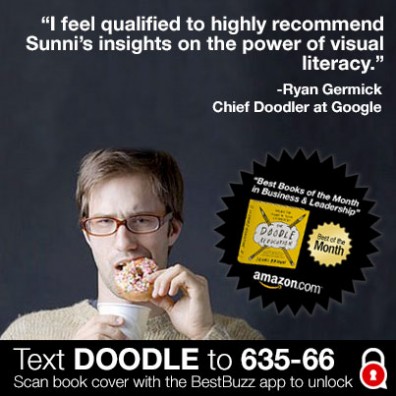 "With Doodler in my professional title, I feel qualified to highly recommend Sunni's insights on the power of visual literacy."
–Ryan Germick, Chief Doodler, Google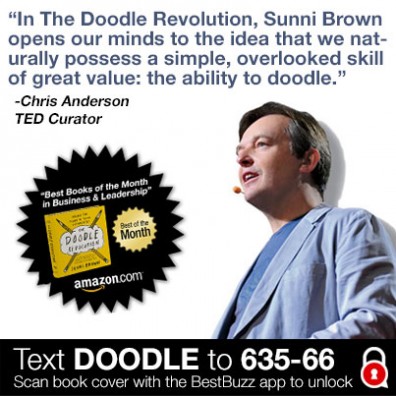 "In The Doodle Revolution, Sunni Brown opens our minds to the idea that we naturally possess a simple, overlooked skill of great value: the ability to doodle. It's a rare gift to be taught such a rewarding truth in so joyful and lighthearted a manner. Sunni is a creative light and an inspiring mentor."
–Chris Anderson, TED curator

"Why do we insist on representing our world using 26 letter rather than an infinity of pictures? Sunni Brown shows us how to doodle our way to better thinking. Her book will have you drawing insights on the page, not just in the margins."
–Dan Heath, coauthor of Decisive, Made to Stick, and Switch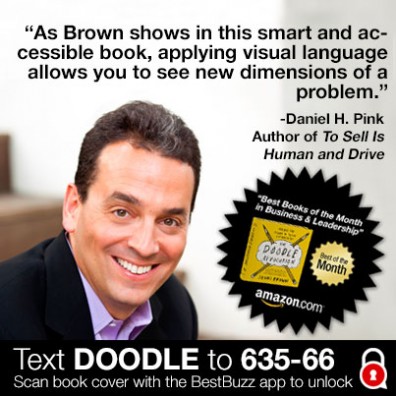 "Contrary to popular opinion,doodling is a serious endeavor. As Brown shows in this smart and accessible book, applying visual language allows you to see new dimensions of a problem–and, at times, new aspects of yourself. So get out your writing sticks and prepare to doodle!"
–Daniel H. Pink, author of To Sell Is Human and Drive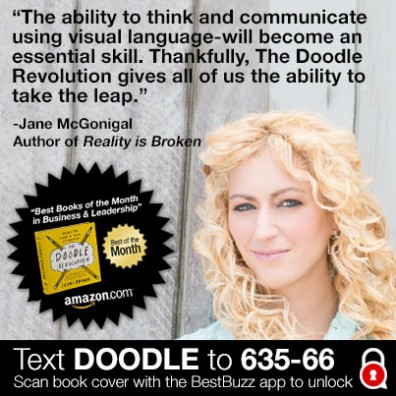 "The future is filled with an ever-growing density of information, so visual literacy–the ability to think and communicate using visual language–will become an essential skill. Thankfully, The Doodle Revolution gives all of us the ability to take the leap."
–Jane McGonigal, author of Reality Is Broken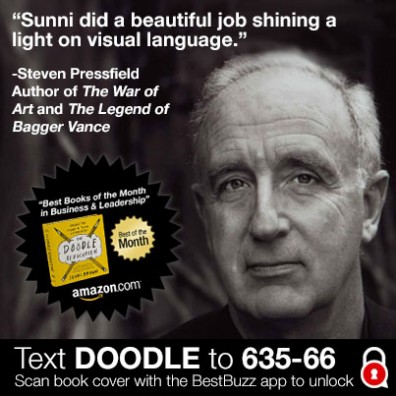 "Doodles come straight from the Unconscious. That's partly why they work. Sunni did an beautiful job of shining a light on a visual language."
–Steve Pressfield, author of The War of Art and The Legend of Bagger Vance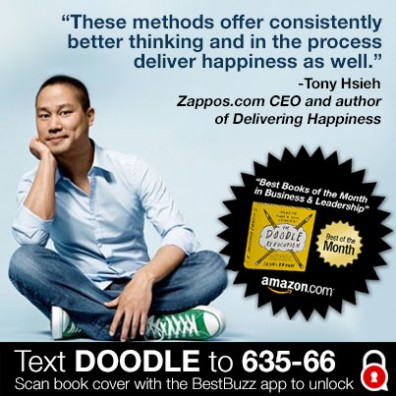 "There's a reason why so many innovative companies use Sunni's techniques for visual literacy, and it's not because they want to have fun. These methods offer consistently better thinking and in the process deliver happiness as well."
–Tony Hsieh, Zappos.com CEO and author of Delivering Happiness 
Want to get an early copy of the book all of these business experts are buzzing about?
Text DOODLE to 635-66
Scan the book cover with the BestBuzz mobile app to instantly be entered to win a signed copy of The Doodle Revolution.
Join the #DoodleRevolution!
Share and Enjoy