posted on
December 30, 2013
by
NEW BestBuzz App Includes Loyalty Rewards, Buzz Map and Shopping Tools
WHAT IS BESTBUZZ?
BestBuzz is a must-have app that delivers you the best rewards from your favorite places and products, so that you get to have amazing customer experiences with the brands you love most. Rewards can be unlocked simply by using the free BestBuzz reader app, which will allow you to scan QR Codes, NFC tags, UPC barcodes, and pictures or logos using Image Recognition (IR) technology that can activate cool augmented reality experiences and rewards. Many consumers consider the BestBuzz the best app they have on their phone.
WHATS NEW IN VERSION 3 OF THE BESTBUZZ APP?
- Access to the best deals from big brands to local businesses, the new 'Rewards' folder allows you to find the best local deals, redeem them, and share them with their friends on social media for even more rewards.
- Earn the new loyalty rewards points that can be later redeemed for exclusive experiences through BestBuzz's many partners.
- Keep your finger on the pulse of the city by seeing where the biggest buzz is happening in real-time on the Buzz Map under the brand new 'Places' folder.
- Shop 'til you drop! Use the BestBuzz scanner to scan barcodes of your favorite products inside you house or when you're on the go to instantly search for the best prices on the web. You can even order directly from Amazon from within the app.
HOW DOES IT WORK?
STEP 1: Search for BestBuzz in your app store or Text BUZZ to 63566 to download the BestBuzz app.
STEP 2: Connect with your social networks. Choose from Facebook, Twitter, LinkedIn, Google+ and Foursquare. (The more you connect, the more points your earn.)
STEP 3: Get buzzing! Scan any QR code, barcode, BuzzCode and even Buzz images.
STEP 4: Get an exclusive reward or prize when you share on your favorite social networks.
*See BestBuzz in action through our most recent campaign for the book The Doodle Revolution by Sunni Brown.
Try Out Your New (or Improved) App!
Connect your new app with your favorite social networks and buzz the book cover below. You will see how the app uses powerful image recognition technology to activate the promotion using the book cover image as a trigger.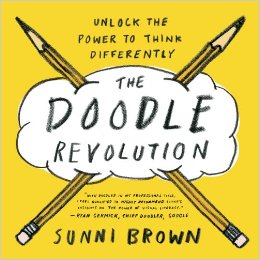 In case haven't heard of Sunni Brown or the Doodle Revolution yet, let us enlighten you. The Doodle Revolution is a movement all about unlocking the power of your mind through doodles. The latest book, The Doodle Revolution, is a collection of work from the author that includes helpful tips, tactics, and activities that allow you to harness the power of the doodle.
Did you know that you can unlock hidden thoughts and a more creative self by doodling?
Well, you can and it's a pretty awesome experience. Join the revolution by buzzing the book cover to enter-to-win a signed copy of this amazing book before it launches.
Happy Buzzing (and doodling)!
#GetBuzzed
Share and Enjoy