posted on
April 17, 2013
by
BestBuzz CEO Carrie Layne Slated to Speak at Integrated Marketing Week in June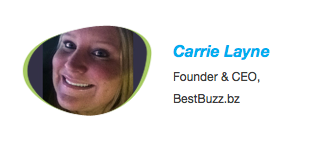 Carrie Layne, CEO and founder of BestBuzz, presents "How to build a fully integrated marketing campaign in 10 minutes" at Integrated Marketing Week in New York on June 12, 2013. Carrie will present the three simple steps to launch campaigns using mobile entry points to deliver social ROI and enhance the customer experience. The BestBuzz team will review case studies, analytics and data, then explore the tools and tricks that smart brands are using to create viral buzz with every social share.
The Integrated Marketing Week conference will also amplify the voices of power companies such as Google, ESPN, SAP, Save the Children and SiriusXM. Joining Carrie, the speaker lineup includes Seth Godin, Michael Bayle, Ashley Friedlin and Simon Heseltine, just to name a few. With over 40 marketing experts in attendance, it will be an amazing conference for marketers worldwide. See the full list here: IMW 2013 Speakers 
Click here to learn more about the event, and sign up for Integrated Marketing Week now to hear Carrie Layne share "How to build a fully integrated marketing campaign in 10 minutes."
Here are just a few things that you can expect to take away from IMW.
Successfully develop and implement a fully integrated marketing strategy to consistently boost your ROI
Utilize advanced analytics to connect all of today's diverse marketing channels into one, manageable data stream
Build profitable online and offline marketing campaigns with consistent brand messaging and exciting, interactive customer experiences
Fill in the gaps of your marketing efforts by optimizing the full range of marketing tools – from data-driven multichannel communications and social media to SEO, mobile, video, blogging and beyond.
No such event would be complete without some great parties to open and close the event. The IMW13 Opening Gala will begin on Monday June10 at 6p and this is a party that you will not want to miss. This will be your chance to meet your fellow attendees and speakers and start making long lasting connections right away.
Carrie does hope to meet and speak with each and every one of you at the conference. Until then, if you want to learn more about BestBuzz, just text IMW13 to 635-66 and scan the BuzzCode below.
Share and Enjoy