WHAT IS THE DOODLE REVOLUTION?
What did Einstein, JFK, Edison, Marie Curie, and Henry Ford have in common?  They were all inveterate doodlers.  These powerhouse minds knew instinctively that doodling is deep thinking in disguise–a simple, accessible, and dynamite tool for innovating and solving even the stickiest problems.  Author of the Doodle Revolution, Sunni Brown, is on a mission to bring the power of the Doodle to the rest of us.  She leads the Revolution defying all those parents, teachers, and bosses who say "Stop doodling!  Get serious! Grow up!"  Sunni overturns misinformation about doodling, demystifies visual thinking, and shows us the power of applying our innate visual literacy.
"There's a reason why so many innovative companies use Sunni's techniques for visual literacy, and it's not because they want to have fun. These methods offer consistently better thinking and in the process deliver happiness as well."  –Tony Hsieh, Zappos.com CEO and author of Delivering Happiness
A BUZZ FOR A FREE BOOK
Sunni Brown, author of the Doodle Revolution, and Carrie Layne, CEO of BestBuzz, have teamed up to give 200 lucky startups a free copy of the Doodle Revolution book!  Be one of the first 200 people to scan the cover artwork of the Doodle Revolution using the free BestBuzz image recognition mobile app, and we will send you a free copy of the book.
1. Download the BestBuzz mobile app & Connect with Facebook or Twitter.
2. Scan the Doodle Revolution image (below) with the BestBuzz app to trigger image recognition.
3. That's it- you're entered to win automatically, and all winners will be contacted within 24 hours.
From one start-up to another, we really appreciate your buzz and support.  Please follow @Best_Buzz, and we will DM the winners.  Also, please keep us posted on how the Doodle Revolution helps get your creative start-up juices following.  Have a great week!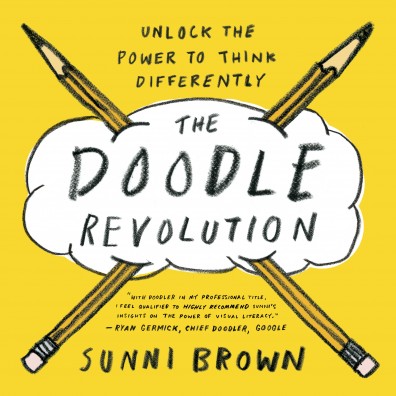 Check out Sunni's TED Talk:  Doodlers, unite!
The Doodle Revolution is for people who want to think differently by using visual representations of ideas and thoughts to  promote better memory retention and help solve complex problems.  Creatives, entrepreneurs, startups, teachers, and  business leaders can all use these doodling-tactics while brainstorming with a team, taking meeting notes, or when at  your desk trying to solve complex business problems.  Countless industry experts use doodling techniques in their  professional lives to achieve great successes.
AS SEEN ON:
Sunni Brown's new book The Doodle Revolution has been featured in countless popular news outlets such as Oprah.com, Fast Company, CBS News and many more.

ABOUT BESTBUZZ:

Ranked as one of the Top 10 Hottest Startup companies by Startup America and Tech Cocktail, BestBuzz is a social amplification platform that helps businesses create, manage and deliver real-time content to fans that scan mobile activation codes from product packaging, in-store displays and print media.  Users can download the free BestBuzz mobile app to discover and unlock rewards from their favorite local businesses, brands, media publications, and consumer products. Start scanning QR codes, UPC barcodes, images and logos marked with the BestBuzz icon to instantly earn points and unlock exclusive offers from partners.
To learn more visit: www.sunnibrown.com and www.BestBuzz.bz or follow @sunnibrown and @best_buzz.