posted on
February 21, 2013
by
Buzzing Definitions: Digital Marketing Acronyms
We live in a world of Twitter, texting and not enough time so of course we must live with acronyms. But what do all of these digital marketing acronyms mean? Econsultancy released a list of 100 frequently used digital marketing acronyms and today we are sharing a few of theirs plus a few that are used in the digital marketing world of BestBuzz.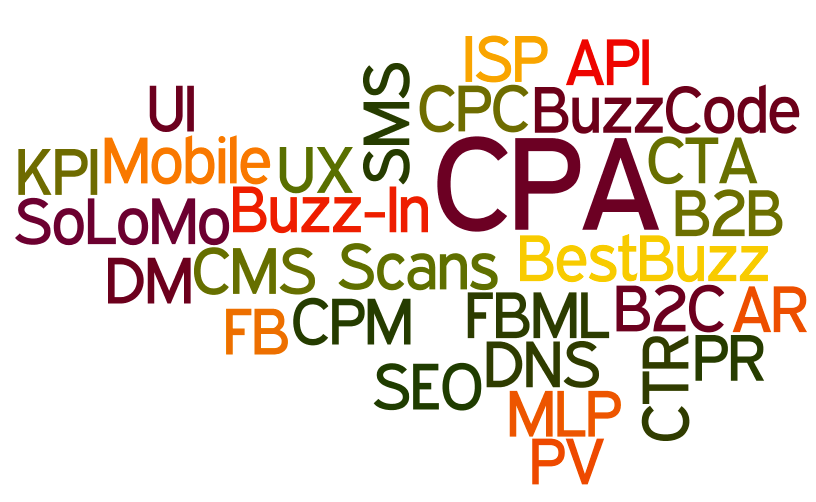 B2B - Business to Business
B2C - Business to Consumer
CMS - Content Management System
CPA - Cost Per Acquisition / Action
CPC - Cost Per Click
CPM - Cost Per Thousand
KPI - Key Performance Indicator
PR - PageRank
PV - PageViews
To read the full list of Digital Acronyms go here.
Common BestBuzz Digital Marketing Acronyms
App – Mobile phone application such as BestBuzz

BuzzCode – Our Patented Round QR Code Design (Which makes your code stand out in the QR Code clutter.)
Buzz-In – When someone uses the free BestBuzz app to scan a BuzzCode and generate Social Buzz for your brand.
CTA – Call To Action
CTR – Click Thru Rate
MLP – Mobile Landing Page
NFC – Near Field Communication
Scans – When someone uses a QR Code Reader/App to scan a QR Code
SMS – Short Message Service (Commonly known as Text Messaging.)
Short Code SMS - A special text code for people to download the BestBuzz app. (ex. text BUZZ to 635-66 to download the app)
SoLoMo – Social Local Mobile
What acronyms do you use in your daily digital life? BestBuzz wants to know, so please tell us in the comment section. If you would like more information about BestBuzz and our mobile marketing solutions, please contact us at info@bestbuzz.bz. Download the BestBuzz App today by texting BUZZ to 635-66.
Share and Enjoy