posted on
October 15, 2013
by
3 Smart Tips You Need to Do Now to Maximize your Digital PR Campaigns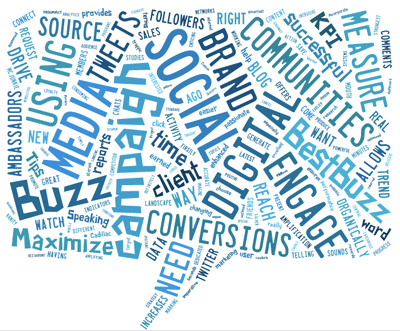 Since the introduction of social media, the world of PR is now an ever changing landscape. Opportunities to spread the word about clients have increased immensely and it seems new communication channels present themselves daily. But how do you choose the right ones? How do you show the client "the next best thing" really delivered them ROI?
1. Measure and Communicate Social Media ROI
Establish KPI's
You have to be able to measure your activity. Firstly, you need to establish key performance indicators (KPIs) that matter. Your client may be interested in vanity metrics, such as wanting more followers than a competitor, but do followers equal sales? While that KPI may make the client happy, a KPI that measures engagement or sales from social media is just as valid, if not more so.
Track conversation trend referral sources
Tracking conversation trends and the source of referrals will help you evolve a successful social media campaign. If you can prove which social networks deliver the most conversions, it can help to secure more budget and time dedicated to that channel.
Regular and consistent measurement reports
To prove what is working and to tweak what isn't, you must produce regular and consistent measurement reports. Your metrics should only come from one source. This ensures your bench-marking and progress is accurate. Using three different reporting systems to measure the same social media activity and conversions is not only time consuming, it can also provide skewed data.
Watch it Real-Time
As we all know, social media is also a powerful news source (especially Twitter). Trending topics and hashtags break important stories and events in seconds. Make real-time monitoring part of your measurement strategy. See what your target communities are talking about and find a way to engage; even better, watch your own message spread and see your earned media grow and who knows, watch it go viral?
2. Get Your Messages in Front of the Right Followers on Twitter
#Hashtags
Twitter is a great place to engage with members of your brands communities. To make the most of it, it's imperative you research and use hashtags that connect your organization with your audience. Use these in tweets you create, or even create a "tweet chat" around the strongest one. Tweet chats are an excellent way to find and drive engagement with brand ambassadors as well as promote new products and events and drive conversions. Speaking of brand ambassadors, you also need a way to reach out to their friends or communities. It goes without saying that when you reach out  you should avoid sounding "spammy" or seeming intrusive.
Use tweets that will be re-tweeted and build site traffic
This is easier than it sounds; just imagine that tweets are mini calls to action. Make them enticing, make the user want to click on them and engage in an enhanced user experience, making it easier to create brand ambassadors. Let them shout about the great offers, promos and events you are creating.
3. Engage With the Passionate Communities
Today's digital PR professionals need to connect their brand with passionate social media and internet communities. As we mentioned earlier, this is a delicate task, as no one wants to be spammed by a brand. Creating loyalty programs and rewards that organically generate positive word of mouth buzz about your client is definitely the smartest way to go.
Having outlined what you need to do and having said that as much data as possible should come from a central source, what is the silver bullet that allows you to maximize your digital PR campaign?
The Social Amplification platform, BestBuzz allows you to measure data and analytics form your enhanced digital campaigns by amplifying your communication with engaging messages.
By using BestBuzz you can incorporate important hashtags and optimized landing pages that drive conversions, while engaging brand ambassadors and allowing them to tell their friends all about you, using organic word of mouth reach, which increases your earned media 25x over standard digital PR campaigns.
How can we be so sure of our success? Brands like, Cadillac, Vitamin Water and Warner Bros. have all delivered successful campaigns using our social amplification platform. The dashboard allowed them to monitor campaigns in real-time, telling them which social media platforms were the most successful as well as what messages and hash tags were most engaging in terms of social reach and conversions.
< Click here to see how the Cadillac Bold Drive to save lives campaign delivered an entire years campaign goals in just 4 weeks!>
Want to maximize your next digital PR campaign using BestBuzz or simply ask more questions?
Special Offer: for PR Digital Summit readers: Save 25% on your setup fee! (Using Discount Code PRSUMMIT when you request to speak to a team member)  
Share and Enjoy