posted on
December 4, 2015
by
14 Exciting Digital Marketing Stats We've Seen This Week
We've got some great digital marketing stats for you this week. We'll be looking at everything from UX to Pinterest and even a bit of Cilla Black.
And yes, we've snuck in a couple of extra Black Friday stats. Why stop flogging a horse when it's not dead?
Mobile overtaking desktop as research tool of choice for purchasing decisions
US consumers in particular are more frequently turning to mobile when researching what to buy online, according to a new infographic by xAd.
(Click through to see the full infographic)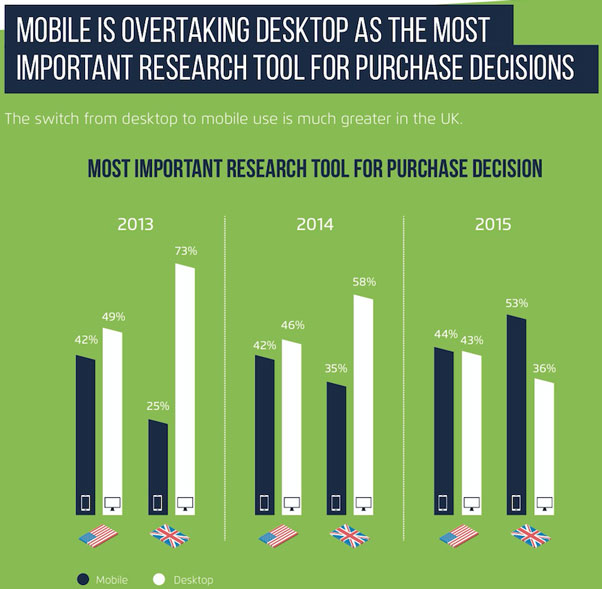 Black Friday sparks 11% rise in bad reviews
Trustpilot saw a 13% increase in total reviews left on its site over Black Friday, with an 11% increase in the number of negative reviews.
Recipe and product pins perform best on Pinterest
In terms of total shares, pins featuring recipes or products outperform 'regular' or 'app' ones on Pinterest, according to a report by Quintly.
Other key findings include:
- 'Regular' pins posted most frequently, making up 55% of all pins.
- Article pins second most-posted, making up 27% of total pins.
- Original pins receive fewer 'likes' than re-pins.
Publishers experience revenue growth in online video
Other key findings include:
- Advertising revenue for portable devices continues to experience year-on-year growth of 16.2%, with all growth being attributed to phone display advertising.
- Tablet advertising revenue maintained its decline with a -23% decrease in Q3 2015 compared to the same period in 2014.
B2B companies missing out on revenue growth due to poor customer experience
B2B customers are increasingly demanding a richer, consumer-like experience, yet only a quarter of companies are meeting that demand, according to a new study by Accenture.
Other key findings include:
- Only 23% of companies are implementing truly effective customer experience programs and achieving higher revenue growth.
- 66% believe that new entrants are providing better customer experiences than existing brands.
- 76% feel that customers are now more knowledgeable, self-directed, and continually evaluating suppliers.
- 74% of respondents recognise customer experience will play an even larger role in overall corporate strategy over the next two years.
Advertisers spending 500% more on millennials than any other age group
Advertisers are spending 500% more on the group of 18-35-year-olds than any other age group, according to a new infographic from Turn.
(Click through to see the full infographic)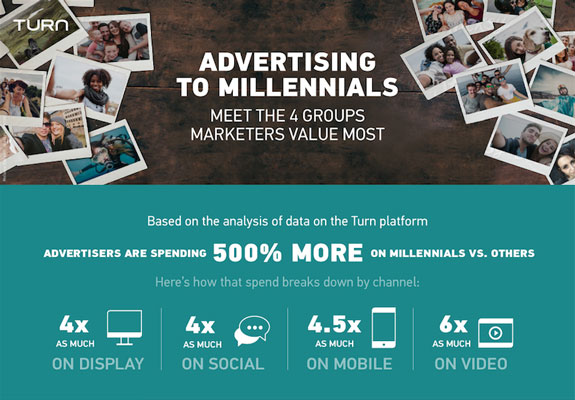 Cilla Black most searched-for celebrity in 2015
Bing has announced UK consumers' top searches of 2015, revealing the biggest trends across current affairs, film, celebrity, music, and sport.
Other key findings include:
- The General Election and Labour leadership contest took the 1st and 2nd spots respectively on the news agenda list.
- The Rugby World Cup was revealed as the most searched-for sporting event.
- Uptown Funk was the most searched-for song of the year, despite originally being released in 2014.
- Star Wars Episode VII was the most searched-for film of the year.
Black Friday cart abandonment was 72%
This represents a 7% increase in cart abandonment rates when compared to 2014's Black Friday weekend, according to a new report from Barilliance.
Split by device, abandonment rates on desktop and tablet increased while on mobile they actually decreased.
John Lewis voted best advert and clearest brand
Despite topping the survey for the people's favourite Christmas advert, John Lewis loses out to Tesco as top destination for our Christmas spending, but Aldi is consistently high-ranking.
Other key findings include:
- 47% of consumers agreed the John Lewis advert was true to its brand values, while only 18% thought that House of Fraser.
- Only 27% stated they would be spending any of their Christmas money with John Lewis, however.
23% have downloaded a store or brand app
With nearly a quarter using store apps and 39% keen to receive real-time offers on the mobile whilst they're out and about, there is a huge opportunity for retailers, according to research from Salesforce.
Other key findings include:
- Even though 83% do product research before they head out, almost one-third buy things they hadn't planned on.
- One in five (20%) say they have texted or called a friend/family member from a store to get advice when making a buying decision.
- 11% of women admit to having taken a selfie in a dressing room of an item they are considering buying and sending to a friend/family member to get their opinion before purchasing.
- More than 1 in 10 (11%) use their apps on their smartphone to scan barcodes when in-store to identify better deals online.
Share and Enjoy